Home > News > Send in your paper proposal for Conference Thomas Instituut 2013
Send in your paper proposal for Conference Thomas Instituut 2013
From 11 until 14 December 2013 the Thomas Instituut te Utrecht will organize its fourth international conference around the subject: Faith, Hope and Love. Thomas Aquinas on living by the infused virtues. We welcome proposals for papers to be presented during parallel sessions concerning these and comparable questions.
Proposals can be submitted until 1 April 2013.
FAITH, HOPE AND LOVE
Thomas Aquinas on living by the infused virtues
CALL FOR PAPERS
During the last two decades
virtue ethics
has become the focal point of renewed ethical and theological interest. To lead a good life, it proves useful to watch those who have mastered the art of living. The conviction that living is an art is at the heart of virtue ethics. Living a good life requires exercise, and is a question of acquiring a virtuous character rather than of complying with external ethical and legal rules.
This renaissance partly builds on Thomas Aquinas. He, in turn, recovered Aristotelian, Ciceronian and Augustinian thought on virtue ethics. The interpretation and development of virtues and vices form the core of his authorship, as the
secunda pars
of his
Summa Theologiae
readily displays. And yet, the most important virtues for him are not the moral ones, such as Justice, Temperance, Prudence and Fortitude, but those virtues that are both infused by and aimed at God:
Faith, Hope and Love
. These are virtues that the philosophers of antiquity were not aware of. To account for them, Aquinas had to adapt the classical understanding of virtues. For him, the moral virtues come to full fruition only when they are embedded in a life before God, a life lived exercising the God given
theological virtues
. By ignoring Faith, Hope and Love, the present discussion of virtue ethics not only ignores those virtues that were for Aquinas of utmost importance, but also fails to arrive at a complete understanding of his view of the moral virtues.
Questions to be discussed
How does Aquinas elaborate his thoughts on the theological virtues? To what extent can developments in his views on the theological virtues be traced? How do his views on the theological virtues compare to those on the moral ones? What do we learn here about the relationship between the philosophy of ethics and (moral) theology, between nature and grace, and between theology and spirituality? And also: why is it useful to think about Faith, Hope and Love as virtues, even though they are gifts of God, and man can easily lose them on account of sinful behavior? Can Christ serve as an example of virtuous life? Did he possess theological virtues? Why does Aquinas think that Justice is the prime moral virtue, and Love the greatest among the theological ones? And what does all this entail for modern theological anthropology?
Apart from keynote lectures (by Eleonore Stump, Anna Williams, Paul Waddell, Bruno Niederbacher and Paul van Tongeren) and shorter lectures,
papers will be presented
during parallel sessions.
Paper sessions:
We welcome proposals for papers concerning the above and comparable questions.
Papers should be written in English, German or French, and their presentation should nog exceed 25 minutes.
.
All proposals must be submitted before April 1, 2013
.
Please send a short abstract (approx. 400 words) of your proposed paper to:
Thomas Instituut te Utrecht
c/o prof.dr. Henk Schoot (Director
Thomas Instituut te Utrecht
)
PO box 80101
3508 TC Utrecht
The Netherlands
E-mail:
h.j.m.schoot@tilburguniversity.edu
Phone: +31 13 4663832
Registration
Conference registration will open on June 1, 2013. The registration fee amounts to €100 for the entire conference (students €50), or €50 for single day attendance (students €25). The registration fee also covers all lunches, coffee or tea during conference breaks, and conference materials. The cost of housing, as well as breakfast and dinner, including the conference dinner on Friday, are not included in the registration fee. The committee will compile a list of nearby accommodations, which it will make available upon request. The committee reserves the right to limit the number of participants.
The Conference Committee: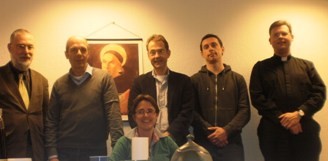 .
.
.